No matter where life takes you, the 2020 GMC Terrain is here for you. GMC's flagship small SUV is absolutely one of the msot capable, versatile, stylish and efficient on the market.
You've just been updated - The 2020 GMC Terrain Interior
Contemporary Styling, premium materials and the first class experience you expect from GMC. Beyond the leather wrapped steering wheel, flexible seating configurations and skyscape sunroof, the 2020 Terrain lives up to the utility expectations.
Get to Know the 2020 GMC Terrain
The 2020 GMC Terrain Trim Levels
The 2020 GMC Terrain comes in 3 distinct trim levels, beginning with the SLE Trim Level and coming to a creshendo with the epitome of luxury, the Denali


The SLE and SLT Trim Levels

The SLE and SLT has a towing capacity of up ot 3,500 pounds and features up to 30 miles per gallon on the highway (26 MPG in the city). Though not the Denali trim, the SLE and SLT trim aren't lacking on features! With safety top of mind, the SLE and SLT come standard with GMC Pro Safety to keep you safe, even when the others around you aren't. There's never any subsitiute for your attentativeness, but Pro Safety helps you automatically apply the breaks, alerts you in the event of a forward collision, nudges you back into your lane and much more! Learn more about the GMC Pro Safety Package here! As if the Pro Safety Package wasn't technologically advanced enough. the SLE and SLT also also has available adaptive cruise control.
Other key features include a 1.5L Turbocharged gas engine, HID headlamps, Traction Selet System, Leather-Wrapped Steering wheel and much, much more!
The Denali Trim epitomizes luxury! Tow up to 3,500 pounds with a fuel economy of up to 22 miles per gallon in the city, and up to 28 miles per gallon on the highway and enjoy a Denali exclusive premium suspension, and in addition to GMC Pro Safety, enjoy standard front and rear park assist as well as 2.0L engine, LED Headlamps and a power liftgate.
Make A Statement When You Arrive - Sweeney Exclusive 2020 GMC Terrain Photos
Available Colors
| Color Name | Color Example |
| --- | --- |
| Graphite Gray Metallic | |
| Smokey Quartz Metallic | |
| Red Quartz Tintcoat | |
| Ebony Twilight Metallic | |
| Quicksilver Metallic | |
| Summit White | |
| Satin Steel Metallic | |
| White Frost Tricoat | |
What is Denali Premium Suspension?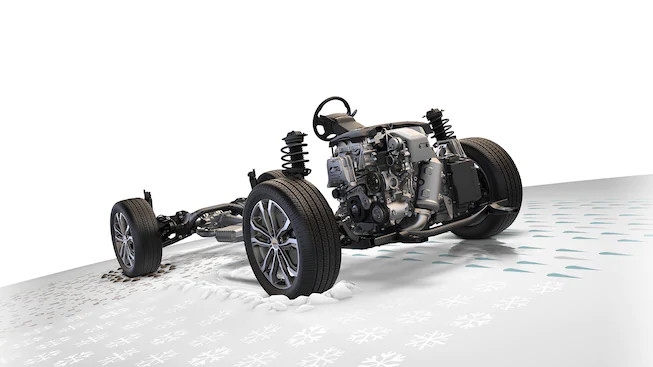 If you opt to get the 2020 GMC Terrain in the Denali Trim level, you can expect it to come with with the Denali Premium Suspension. So what is it? It's an upgraded premium suspension that adds capability, responsiveness and ride comfort. It does this by adding an additional valve to the struts and shocks that refines the ride.Your Terrain Denali will also come with urethane spring isolators intended to reduce road noise for those long drives.
Let's Talk about Safety on the 2020 GMC Terrain
Let's kick this off by saying that technology features like you're about to read about are no substitute for your responsibility to operate the 2020 GMC Terrain in a safe manner. Always stay attentative to your surroundings and road conditions.
Now that we've talked about that, let's talk about The GMC Pro Safety package. The Pro Safety package is broken down into six components:
1. Automatic Emergency Braking - helps avoid collisions by automatically applying the brakes for you in certain situations.
2. Forward Collision Alert - lets you know when you're headed for a collision.
3. Forward Distance Indicator - tells you how far away you are from the vehicle in front of you.
4. Lane Keep Assist - Helps you stay in your lane to avoid accidentally moving over. It also provides you with warnings for when you're over the line.
5. IntelliBeam Headlamps - IntelliBeam headlamps automatically turn on your vehicle's high beams when it's super dark, and automatically turn them back to your low beams when they detect oncoming traffic.
6. Front Pedestrian Braking - Alerts you when a collision is possible with a pedestrian or bicyclists and can reduce the severity of that crash by applying hard, emergency braking if you don't.
There are also some additional available safety features, including adaptive cruise control, which enhances your standard cruise control by using the onboard cameras to automatically adjust your vehicle's speed to maintain your desired gap between the vehicle in front of you. And for those moments when parking isn't easy, GMC delivers with Rear Park Assist, letting you know just how close you can get to avoid bumping the car behind you you.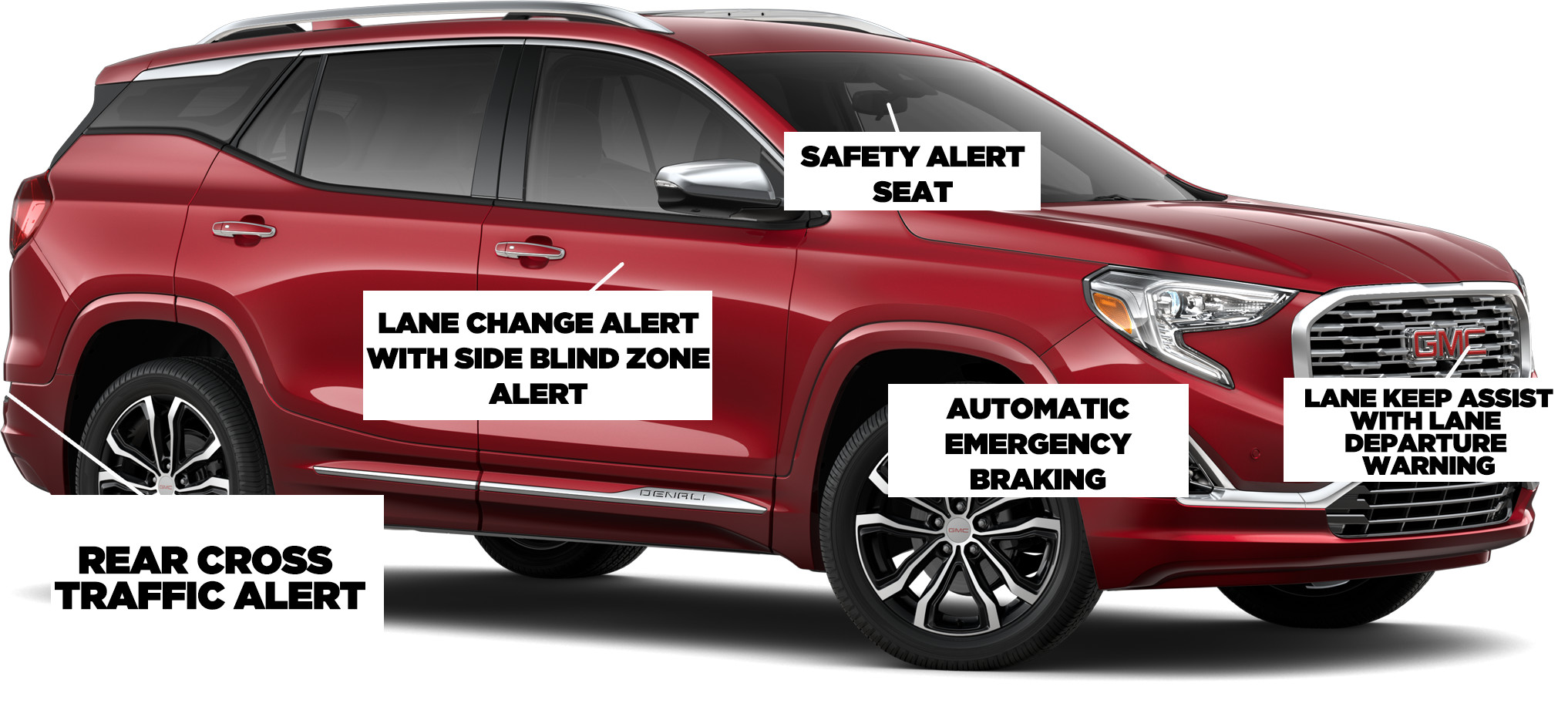 Technology, But Make it Cool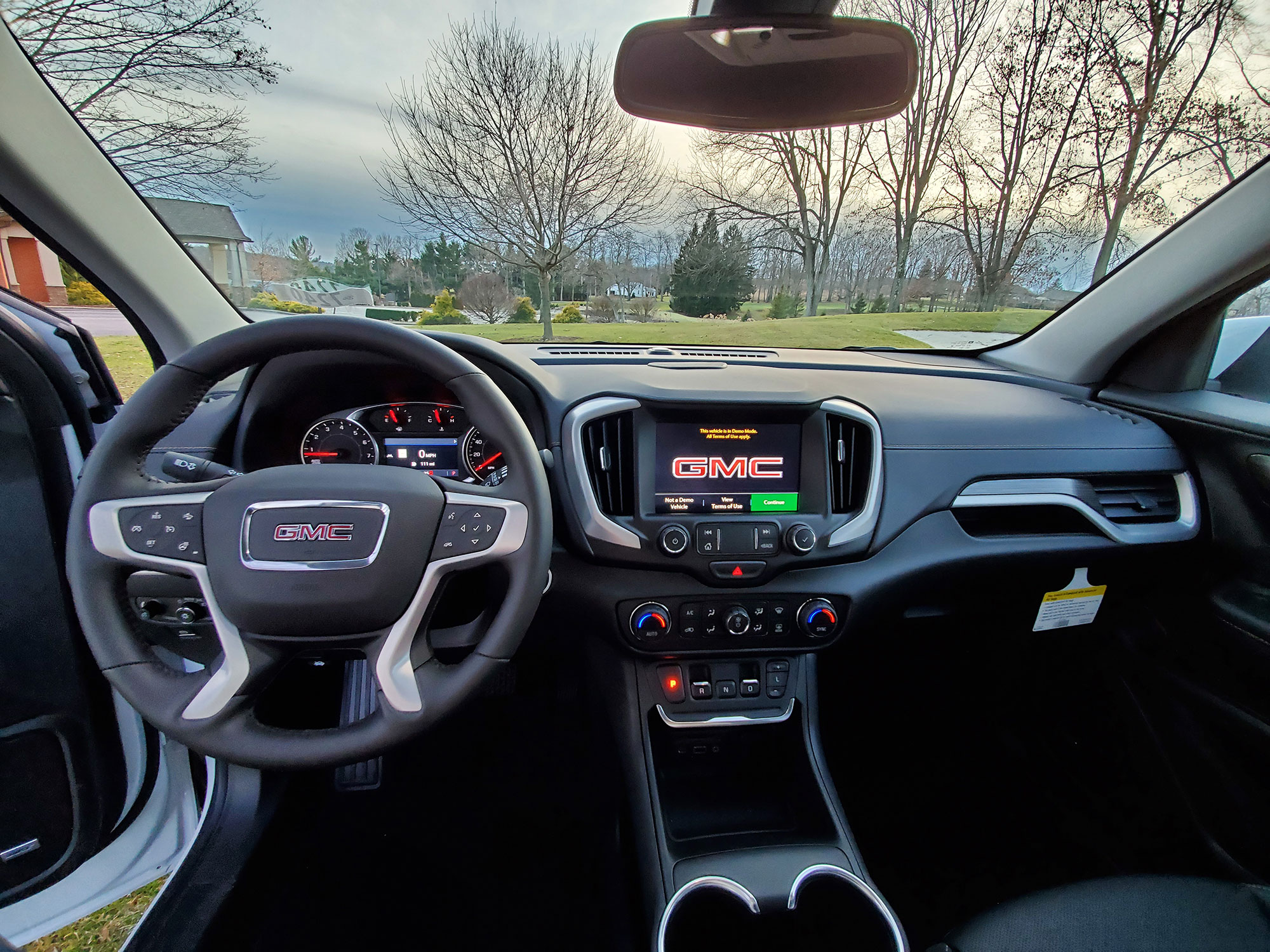 The Terrain's available technology is ease to use and keeps you connected and entertained.
Highlights of the 2020 GMC's available technology:
-Built in Navigation
-Apple CarPlay/Android Auto - Manage your phone calls and messages safely, use apps from your smart phone right on the touch screen, use your phone's navigation and much more!
-Customizable Touch Screen
-4G LTE WiFi
-myGMC Mobile App - Schedule your vehicl'e service and manage your maintenance visits, get tips on how to improve your driving, use marketplace to connect with your favorite brands, remote start and stop your vehicle and much, much more.